Living Arrows 9/52
How are we already 9 weeks into the year? Here's week 9 of the Living Arrows linky that we've been linking up to every week so far. Is anyone else impressed that I've managed to keep this going every week so far? I certainly am!
Now I have to admit that I didn't take this photo of Isla. Chris took it, while I was poorly sick up in bed. We all had a PJ yesterday, as between us we were all ill in one way or another. Not a fun house! (Does anyone else remember the children's programme Fun House? How awesome was that? Chris has never watched it!!! Anyway, I digress!)
We're starting Isla young in this house, and we've been introducing her to rugby while the Six Nations has been on. She loves sitting in her ball pit (a Christmas present from Aunty Jamie and Uncle Heather), now with added balls after we went to an NCT Nearly New Sale on Saturday, where we got lots of bargains, some of which will be her birthday presents.
We're big fans of rugby in our house. I've memories of sitting down on the sofa on Saturday and Sunday afternoons with my Dad when I was little watching the Five Nations, and I love that we're carrying this on with Isla…although as I said she was in a ball pit, and Daddy is a little bit too big to fit in there with her! Chris and I have also been over to Twickenham a few years ago to watch England Vs Italy, which was a great match. The atmosphere at Twickers is amazing. We've been to Twickenham a couple of other times too, including to watch England XV Vs The Barbars, which was another amazing game (partly due to the fact we'd just got our new camera which has a 30x zoom, so I could zoom in on Jonny Wilkinson's bum!!)
I don't know whether it's the fact that her ball pit now has a lot more balls in it, as well as other toys, but Isla seems a lot more happy to just sit and play in it, whereas before she constantly wanted to crawl out of it (something she figure out how to do the very first time we put her in there!)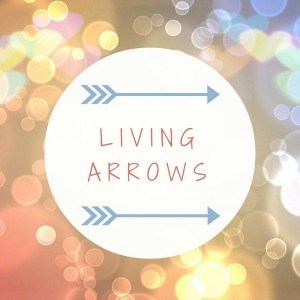 Living Arrows 9/52
Check out Life As Mrs D's other Living Arrows posts here.