Living Arrows 8/52
So here we are again for another week of Living Arrows. The weeks really are flying past, I honestly don't know where time goes at the moment!
I love this photo of Isla. She is smiling in it, honest!
Isla can spend hours at the moment emptying out baskets of…anything.! Whether it's the box of bibs and cloths, or a clean basket of laundry. Each item she takes out obviously has to go in her mouth before it hits the floor.
If I've got things to do then I'll put everything back in the basket again for her to just empty out so that I can get a few more bits done. She'll giggle and then go back to emptying out the basket!
Maybe I should take a basket of laundry to nursery as well when I take her. This last week my gorgeous girly has not been happy on her settling in sessions. Monday I had to go get her early as she got herself into such a state. Tuesday she cried most the time she was there, but at least she would let them comfort her. On Wednesday she was better, and only cried when the door opened! Maybe if she could play with a big basket of socks she would be happier!?
Yesterday went better though. She had cuddles for the first 2 hours…then fell asleep and slept for the next 2 hours until I picked her up! And that seems to be what I'm paying nursery fees for…cuddles and sleeping!
At least it gave me chance to get so much done round the house. I managed to completely blitz the living room, and half of the kitchen. Isla will be upset that I put the laundry away…but I've done two more loads since so that will keep her entertained for a while. Seriously, I don't know how we create so much washing!
I'm hoping that Isla will settle into nursery well and begin to enjoy it soon. It does break my heart to leave her there, particularly when she's crying before I've even left the room. Someone please tell me it gets easier???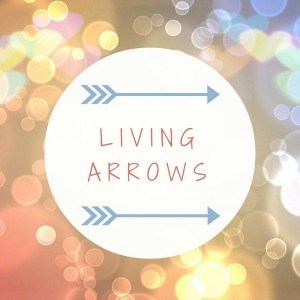 Living Arrows 8/52