Living Arrows 43/52
Back to reality this week after a wonderful week in St Ives last week. We had a really long journey back on Friday, and Saturday I was so so tired I wasn't in a fit state to do much at all. And Sunday we did a big Costco shop, and I had to restrain myself from getting the Gin Advent Calender they sell there, but I just couldn't justify spending £60 on an advent calendar. Anyway, here is this weeks Living Arrows post
We had a fantastic week in St Ives last week. My Aunty has a house on Porthmeor beach and we're lucky enough to stay there, usually once a year. This year we were there with my parents, and my brother and his girlfriend also stayed there for a few days. Which was lovely.
On Sunday we met up with an old school friend of mine who lives down in Cornwall, and has a son who is a week older than Isla. We went for a walk along the coast at Godrevy, where we saw the colony of seals that live there. And then had a cream tea at the cafe. Isla decided she wanted to walk for most of it, even though it was muddy and steep. Fun! It was lovely to catch up though, and so nice to see how her son is growing up, as we met up when we were down in St Ives last year too.
Isla's sleeping has been…interesting this last week. Her naps have been pretty non-existent, with most days having about 30-45 minutes, if that. The upside of this is that she has gone to sleep fairly quickly and earlier than usual. But she has been grouchy at times as she's been so tired. I'm not sure reduced naps would work at home though, as I think she only coped with it as she had so many people to keep her entertained all the time.
Isla loved playing down on the beach, and kept taking us down to the garage so that she could go to the beach (the easiest access to the beach for us is through the garage, which leads straight onto the beach) She loved digging in the sand with her spade, and pulling up bits of seaweed, putting sand on our legs (I think she was trying to bury us!) and even had a splash in the sea despite it being very cold!
Even though this weeks Living Arrows photo doesn't show much of Isla's face at all, I think it shows off her quirks at the moment. All the way along the main shopping street in St Ives there is a small "pavement", although no one above the age of 3 could walk along it! Isla of course, insisted that she walked all the way along it, which made it slow going, but was quite funny, and cute,  to watch. She also insisted on wearing her rucksack for large parts of the holiday, whether it had something in it or not, and whether we were outside or not!
She has changed and developed so much over the last week or two.  I'm amazed at how much she understands,  and how much her speech has come along in the last week! I lobe watching her grow!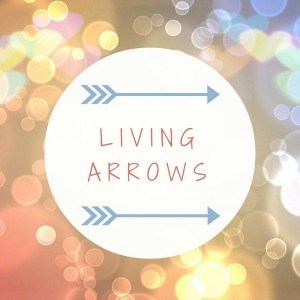 Living Arrows 43/52
Check out Life As Mrs D's other Living Arrows posts here