Living Arrows 40/52
I think this Living Arrows post might be kept short and sweet this week, as I'm feeling pretty rotten, and a cold-induced brain fog means that forming any sort of coherent sentences is proving quite difficult, so without further ado, here's this weeks Living Arrows
I was going to say we've had a fairly chilled out week this last week, but actually thinking about it I don't think we have!
Monday – At my parent's still after BlogOn Xmas and then travelling home
Tuesday – Recovering from my killer headache, and then we had an impromptu, but lovely, visit from some friends and ended going out for dinner with them
Wednesday – Was actually fairly chilled, Isla was at nursery so I did some blogging and tried to get the house back in some semblance of order
Thursday – Isla and I went to Odd's Park Farm to meet up with some friends. I was meant to be going out with some Mamas from our village in the evening, but I cancelled at the last-minute as was feeling exhausted, and I had a clingy, teething monster.
Friday – We had friends visiting again who ended up staying over night. We went to the park to play on the swing and with bubbles, and then had takeaway
Saturday – Isla and I went out for brunch with friends, did a little bit of shopping, and then in the evening we had a friend's 40th birthday party, where Isla spent all night dancing!
Sunday – a visit to the garden centre, a few jobs round the house, and far too long trying to get a little girly to nap!
This weeks Living Arrows photo was taken (by Chris) when we went out for dinner at Nandos on Tuesday. It just makes me smile every time I look at it, as it proper looks like Isla is reading the menu. She looks so so grown up, and it gives you a little glimpse of what she may be like when she's older.
I'm hoping this week will be a little bit more relaxed, though I'm not convinced it will be stress free. With a toddler that is teething and has a cold, we're not getting much sleep at all. Night times are full of broken sleep, and nap times and bed times are just such a struggle at the moment.
So please, send some nice thoughts our way, as well as tissues, orange juice….and gin! Gin makes everything better right? At least for mummies anyway!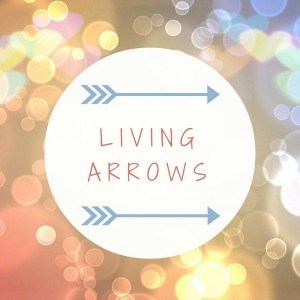 Living Arrows 40/52
Check out Life As Mrs D's other Living Arrows posts here