Living Arrows 38/52
Well, you can tell all the kids are back at school and nursery. Isla's nursery class was a bit quieter than usual over the Summer, but now it's back to being full. Full of children, and full of colds! Isla has a stinking cold at the moment. On the whole she is quite happy, but she is definitely struggling to sleep at night, and is a lot more cuddly than usual. Which both Chris and I are enjoying! The cuddles that is, not the snot or lack of sleep! Anyway, here is this weeks Living Arrows post.
As I said, we've had lots of cuddles this week, which has been nice. But it does mean that I have got even less done round the house than I usually do, so it's looking a bit of a bomb site. Hopefully that will improve after an afternoon of Isla being at nursery.
We haven't really done much this week, other than on Thursday we went shopping in town. Next door are STILL having work done on their kitchen, and the drilling scares the bejesus out of Isla, so we usually end up going out when it gets really bad. So yes, Thursday was shopping and lunch in town. For Isla's sake, obviously!
On both Saturday and Sunday we popped down the allotment as a little while ago we bought 100 Allium bulbs through Gardener's World for a whopping £5 or something like that. I've wanted to get Alliums for ages as I love them, so jumped at the chance to buy them at such an amazing price. There are 6 different varieties, so that's nice. Anyway, they need planting in September, so we have been clearing and making three beds on the new half of our plot.
Isla has loved helping us dig out the weeds, and then spread grit over the soil before digging it in. It has been so sweet to watch her enjoying spending time at the allotment, paying attention to what we've been doing there, and trying to help us.
As I mentioned above, Isla has been giving lots of cuddles. And that hasn't been limited to cuddles for Mummy and Daddy. She has been cuddling her toys a lot more. Not only her toys, but also the foot rest (the one she's standing on in this photo), and the wall! In this photo she just decided to climb up on the foot rest, which is the first time she's managed to do that, and then just leant against the wall and gave it a hug. She stood like this for a good 5 minutes, which is the longest she is still for at the moment!!
This photo just makes me smile so much. It makes me realise as to how much she is growing, with the fact she is now big enough to climb onto the foot rest. My little girl is growing up so so fast at the moment.
Anyone elses children full of cold now that schools and nurseries have started back?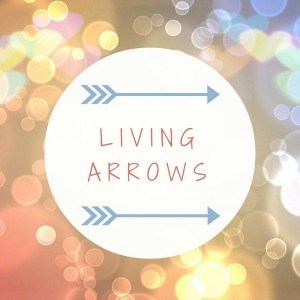 Living Arrows 38/52
Check out Life As Mrs D's other Living Arrows posts here