Living Arrows 36/52
Can someone tell me how we are in September already!? I'm seeing so many parents posting about being sad that their children are going back to school. I, however, am super happy the schools are going back! It means that the parks and soft play will be quieter, and the groups at the Children's Centre will be starting again. I'm also hoping that as it seems to have rained for the whole of the Summer holidays, that the weather may improve now that schools are back. That's how it works, right!? Anyway, enough of that, here's this weeks Living Arrows post
I think we've had a fairly busy week. We went swimming and out for dinner on Tuesday, which was a semi success. It's only the second time Isla has been swimming since Easter, as the classes we used to go to got changed to a different time and venue so we could no longer make it. She seemed to enjoy it if she was cuddling me, but wasn't too sure if I encouraged her to swim or if Daddy tried to cuddle her!
On Wednesday I got to have teeny tiny baby cuddles, as a friend had a baby 3 weeks ago, so I went to visit while Isla was at nursery – I decided it would be much easier when she wasn't there. Aren't I mean!? I did come away thinking I want another one! But Isla soon sorted that out by taking forever to go to sleep that night, and then waking up for two hours in the middle of the night!
Over the weekend it has been all about family! On Saturday we headed over to Hever Castle to meet up with Chris' family, so Isla got to spend the day with her three cousins on that side, her aunties and uncles and her Nanny. She loved it, especially as there was loads of space for her to run around!
And to make Isla extra happy,  when we got home her Grandma and Grandpa were there as they were staying for a few days (hence why this is posted a couple of days later than usual) They missed Isla! We did lots of work on the allotment – built a three bay compost heap, as well as a massive compost heap for really crappy bits of allotment stuff, and another smaller bay for woody bits that can get burnt when we have time. We also picked some broccoli, cabbages, MORE courgettes, MORE beans, and a couple of cucumbers too. Isla also seems to have spent most of the last 3 days with hiccups, as Grandpa has been making her giggle constantly!
Anyway this weeks photo for Living Arrows is of Isla "eating" her breakfast. She is a bizarre one. If you follow me on
Facebook
,
Twitter
or
Instagram
(and if you don't, why not!?) you'll see that this morning Isla showed me how you're actually meant to eat your cereals…with a straw of course! I'm not sure whether that is an improvement on the above photo though. This time she decided that cereals were best eaten off the table rather than from the bowl. And so they all got tipped out, and you can see her scraping the last few bits out with her spoon! There is such a look of concentration on her face. I love it.
It's a good job that I've taught her how to wipe the table after she's finished eating isn't it? Although I do have to make sure that any bits of food are cleared away first though, otherwise they end up on the floor, as she gets a bit enthusiastic with the cloth!
Am I the only parent whose child seems incapable of eating food in a normal manner!?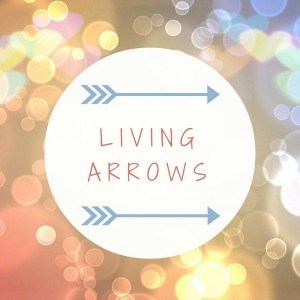 Living Arrows 36/52
Check out Life As Mrs D's other Living Arrows posts here.