Living Arrows 34/52
I am oh so thankful that this last week was better than the previous!. I don't think I could have managed another week like the last week. As I said, I think we've been very lucky on the whole in terms of Isla's sleeping, so that week was a killer. Although on Friday morning, she did decide it was a good idea to wake up at 6:30am when Daddy left for work, and didn't go back to sleep again, until she finally went down for a nap at about 11:30! Anyway, without further ado, here is this week's Living Arrows. 
On Tuesday morning Isla and I enjoyed a good play at our local Children's Centre. It is so convenient for us, as it is right behind out house, so I can decide that we are going, and be there within 5 minutes having got us both ready. No need for a car or anything.
Isla loves playing there as there are so many different toys, and other children there too. It is rare that she will play with them, as I think she is still quite shy, but she likes to watch the other children a lot. Isla also loves the garden there. It is small, but still a lot bigger than our garden. Plus, they have lots of fun garden toys to play with! She has taken a real shining to the Little Tikes cars they have there, although she does quite like to get out of them while I'm still pushing her around in them!!
This week's Living Arrows photo was taken in out local Children's Centre garden. She doesn't often manage to play with this toy, as another one of the boys that is often there loves to play with it. And as he's older than Isla, so she just lets him play with it, while she watches. However, he wasn't there on Tuesday, so it was all hers! It's a really simple toy. A piece of guttering that is held up at one end to make it into a slide, and you whizz car toys down there so they all crash at the bottom! Hours of entertainment! Isla bless her though, couldn't quite figure out why the helicopter (with no wheels) wouldn't slide down, no matter how many times she tried!
Unfortunately our local Children's Centre, like many others at the moment, is being threatened with closure. There is a consultation going on that will finish at the end of September. But I fear this is just part of a tick box exercise and it is already a forgone conclusion as to what the council have decided.
I was speaking to one of the member's of staff on Tuesday, and she was saying that they have been told that it is highly likely that a lot of centres will close, but they have not been told which. But they are also being made to reapply for their jobs, but don't yet know as to how many jobs are at risk. The council's proposal is to merge together a lot of services (children's centres, Family Information Services, Connexions, Women's Aid, Youth Services (so probably including probation)). The overall aim is to "support families earlier, to avoid small problems getting bigger".
In my view, (and this is just my opinion based on families I have worked with in my past jobs) a lot of the families that have these 'big problems' are not the families that use the centres in the first place. So closing lots of them down to put more resources into 9 bigger centres (rather than 30+ smaller ones over the county) will not encourage those families to attend these bigger centres at all.
I feel as though the smaller centres can often be a life line for families. Particularly the ones that are in rural villages with poor transport links, like ours. Having young children can be so isolating for a lot of new mothers, and the support they get from the staff at these children's centres are amazing, and it helps them meet new friends too. This can help improve mental health, as well as being a place where mothers (and fathers too!) can speak to professionals, whether that is children's centres staff, health visitors, speech therapists, etc. so they can get that early advice and support. Which they may well not get if it means they have to travel over an hour on a bus if they don't have their own transport to get to the nearest children's centre.
I know this has turned into a mini rant, but I think it is a really bad idea. Is anyone else experiencing this with their local children's centres? Do you see it as a positive or negative thing? I'd love to hear your views.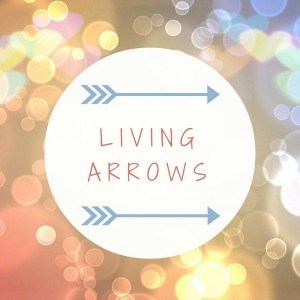 Living Arrows 34/52
Check out Life As Mrs D's other Living Arrows posts here.