Living Arrows 33/52
I think it's a mix between teething and having a cold, but our darling
Isla Bear
has been pretty much waking up every half an hour for the last few nights, and only have an hour or less nap each day too. I think on the whole (with the exception of her being a pain to go to sleep) we have been fairly lucky with her sleeping. So this has hit us pretty hard, and we are both exhausted.
She's not eating much at all at the moment, as in she has barely eaten anything since Friday. Even her beloved Melty Hoops aren't really tempting her! So I'm sure the half hourly wake ups are also partly that she's hungry too. After several feeds, a lot of moaning, wriggling, crying, and snot, and usually another bottle, she will finally settle a bit more. But it's still exhausting!
On Sunday morning we were all up and pretty much ready to do whatever by just gone 9am (so unusual for us, we're usually still in bed/asleep at that time!) I have joked that we could be at IKEA by the time it opens if we got ready to leave straight away. After Mum and Dad helped us to clean and sort the house lots last week we discussed (again) getting a new storage unit for the living room. We have very little storage in our house, and lots of stuff that needs storing!! So we thought we'd see what inspired us.
Part way there, we suddenly had the thought…"Does IKEA open at 10am or 11am on a Sunday?"  Turns out it's 11am!
B*llocks!
So we thought we'd go to Costco beforehand then as it was near IKEA. Turns out that doesn't open til 11am either!
Double b*llocks!
So we decided to drive to IKEA anyway, and sat in the nearby car park with a McDonalds coffee until it opened, while Isla had a nap (yes, she'd been awake that long already, that she was already napping by 10am!)
As is usual when we go to IKEA, we spent a small fortune (nope, no tea lights bought either! I know, I'm the only person in history to have ever resisted!) But on the plus side, we have a new storage unit for the living room, as well as a new wardrobe for Chris (He has a tiny one, I have a massive double one to myself :D) So at some point we have got to find the time to put them all together, and the house will, hopefully, feel a bit more organised. I think it's going to require a lot of rearranging of pictures around the house too, but I'm hoping in the long run it will be worth it and look good.
This week's Living Arrows picture is of Isla at IKEA. She seemed to love this cotbed. She climbed straight on to it, and even had a bit of a lie down! While Chris was busy looking at wardrobes (yes, in the kids section – they are much cheaper, and have better storage options in my opinion!) Isla found it immense fun to walk across the (very busy) walkway to get lots of cuddly toys, and bring them back to pile on this bed. I had to apologise profusely to a lot of people! It was pretty damn cute though!
She was exhausting in IKEA though, as she either wanted to walk, which is difficult in such a busy store, or be carried…only by me. Daddy would not suffice. And she is getting pretty darn heavy these days, for Isla anyway! *Note to self: next time you go to IKEA, take either the sling or the carrier!*
So how has your week been? Anyone else feeling extremely sleep deprived? Any magic tricks for helping a teething and snotty baby to sleep, and eat better?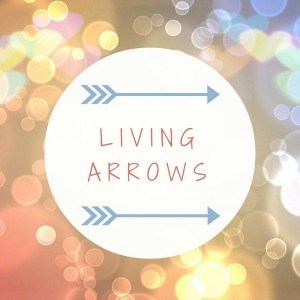 Living Arrows 33/52