Living Arrows 32/52
The idea of the Living Arrows linky comes from a line in a poem by Kahlil Gibran, "You are the bows from which your children as living arrows are sent forth"
Each week we share a photo from the last week, that captures a moment of their childhood.
So here is my moment of Isla for this week 
My parents came to stay again this weekend. I'm mentioned to my Dad that I wanted to get a cleaner in to do all the bits of the house that I didn't want to clean – the windows,  the fridge,  the cupboard doors,  mirrors,  the shower hose, etc. etc. This then turned into them coming to stay so they could do the cleaning for me!
I love my parents!
They were also amazing and offered to look after Isla on Saturday night so that Chris and I could go out for the night. We went to Yo! Sushi, and then to the cinema to see Baby Driver. (If you haven't seen it,  go! It's fab,  and has a very eclectic,  but great soundtrack)
On Sunday evening we headed down to the allotment for a little bit. With all this rain we've been having the weeds have gone mad, so we all attacked them.
Including Isla.
Isla is definitely getting more and more interested in what we're doing when we're at the allotment. So Dad gave her the trowel and let her do a bit of digging. She loved it. But got frustrated when she couldn't get any soil on the trowel. I think it was a bit heavy for her.
I've bought Isla her own trowel, fork and watering can set that are much lighter, so we must take that down to the allotment with us next time so that she can play. I just hope she doesn't decide to dig up all my vegetables!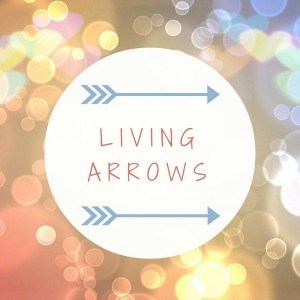 Living Arrows 32/52