Living Arrows 31/52
It's that time of week again for my Living Arrows post. Those of you who are new to reading here at Life As Mrs D, or are unfamiliar with what Living Arrows is, it is explained below by the lovely Donna at What The Redhead Said, who also hosts the linky each week.
"If you haven't joined in with Living Arrows before it's is about celebrating childhood. The project originally took it's name from a poem by Kahlil Gibran, "You are the bows from which your children as living arrows are sent forth" and every Monday we share a moment from our week and invite others to do the same as part of this linky."
So each week I share a picture of Isla from the last week. This weeks picture really makes me chuckle. As of tomorrow (Tuesday) we will be 15 months into our breastfeeding journey. I'm not sure how much longer it will continue, she seems to be feeding less frequently these days…and when she does feed during the day, there has definitely been an increase in biting recently!
This is not OK Isla!
I'd seen a onsie online the other day that said "Don't bite the boob that feeds" I'm tempted to try finding somewhere that will turn that into a print or something to put up in her room or somewhere!
Anyway, back to this weeks photo….It is one of her feeding…although I'm sure most people wouldn't have been able to tell that if I hadn't just said so! She is such a fidget bum, and pretty much always has been when feeding. But this is a whole new level of fidgeting!
She had started off lying down, across my stomach, but then she gets up on to her knees, and eventually ends up standing up. It always makes me laugh so much. She is such a crazy character! I love the fact that in this photo she is also standing on her tiptoes!! I mean really? How can you stay latched on and drink/eat properly if you're dancing around so much. Somehow she manages it though!
Daft child!
Isla has been spoilt with visitors this week. On Thursday her Uncle Matt came to stay for a couple of nights before him and Daddy disappeared off for a stag weekend. We also had some friends round for dinner on Thursday night with their kids, so Isla was in her element playing with lots of people. And then Grandma and Grandpa came on Sunday afternoon and stayed the night, and they were fighting over who got to have the most kisses and cuddles with Isla.
Grandpa won.
Grandpa always wins!
She was a little madam on Sunday afternoon though. I was out in the garden with her, and picked a sweet pea and told her to give it to Grandma. She had a big smile on her face and went to give it to Grandpa instead. So he told her "No, give it to Grandma, she would like it". So Isla reluctantly give it to her Grandma, for five seconds, and then took it off her and gave it back to Grandpa!!!
The little menace!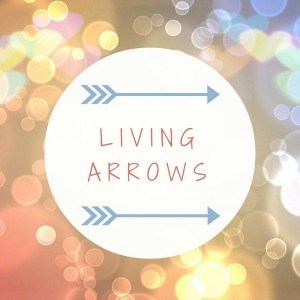 Living Arrows 31/52