Living Arrows 27/52
I don't think I could even tell you what we did during the week. I simply have no idea.  It seems a long time ago now! We've had a generally lovely weekend though. And so, you can read on here to find out what we did in another installment of Living Arrows.
On Friday afternoon we packed up the car and went camping!!
It was only for one night, but we really enjoyed it. Isla's nursery has a big trip each year, and this year they decided it would be camping. I was a bit apprehensive at first, as I wasn't sure how Isla would take to it. Whether she would be too cold, or it would be too light, or too noisy for her. But she seemed to love it.
It was a bit chaotic at times, as there were a lot of families there, and no one seemed to really know what was going on where and when. But we set up camp with some friends, and had snuck in some beers to have during the evening too. The girls played outside the tents for a while, and then they went to bed, a bit later than usual, but were asleep by 9:30pm.
Us grown-ups then stayed up chatting and having a few beers for a couple of hours, which was really nice. Despite the rain, which prompted a quick pack up and a move into our tent, which was thankfully big enough to fit us all in.
Isla amazingly slept through until 7:15am, with a brief wake up at 2am, but she settled back to sleep again really quickly. There were meant to be activities and things on throughout the time we were there for the kids to do, but we never managed to find any, apart from a sing-song in the yurt, which was….interesting!
We were packed up and heading home again by 10am, as it was only an overnight event. We'd hoped that Isla would fall asleep in the car on the way home, but no such luck! We managed to get her to sleep once we were home, and she snuggled up in bed with us…and we all had a three-hour nap!!! Turns out we were all a bit tired!
Isla has been a bit "off" for the rest of the weekend. She didn't really eat much while we were camping, and she didn't really want to eat anything on Saturday either. She also has been feeding lots more than usual (yes, we're 14 months in to our breastfeeding journey, and still going strong!!!)
Our darling daughter decided to wake up at I don't know what time in the night…maybe 3am? So we brought her through to us, as we usually do, and she had a feed….for the next hour!!! And if she wasn't feeding, she was crying!
Honestly, it was like having a newborn again….but I felt more tired! Or at least in my mind I did!! Chris tried taking her downstairs to sleep, as that usually works, but she just screamed even more! In the end we made up a bottle, and she eventually fell asleep sometime after 5am. Thinking about it the poor girl was probably hungry, having refused to eat much for the past day or so.
She slept in until about 11am on Sunday morning, and was much happier, although still not really wanting to eat much. And she decided that she only needed a 10 minute nap all day!! But surprisingly wasn't really too grumpy at the end of the day.
This weeks Living Arrows photo was taken on Sunday afternoon. We got out another of Isla's birthday presents – her Nana Jan got her a sand and water activity table.
And she loved it!
I think you can tell that from her face! I'm not quite sure why she decided that pegs were needed in the water, but she is completely obsessed with them at the moment, and will happily sit for ages playing with the peg basket! Easily pleased. She loved splashing in the water, and both Chris and I were soaked by the end of it.
So Saturday and Sunday were pretty chilled days, where we didn't do all too much, but I think that was needed! We loved camping on Friday night, and are already looking to go again later on in the Summer.
Do any of you have any tips and trips for successful camping weekends? Any favourite camp sites? I'd love to hear about your camping experiences with toddlers.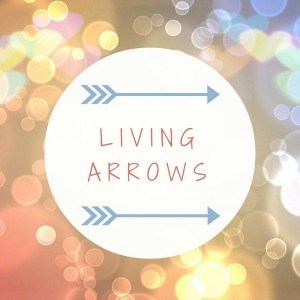 Living Arrows 27/52