Living Arrows 26/52
Two Living Arrows posts in two days, aren't you lucky!? I know I've had a few weeks where I've posted a day or two late,  but last week was about as late as you could get!  Chris was on leave all of last week, so instead of blogging I/we ended up tackling a rather large to-do list we had!
Usually when Chris has a week off work we go on holiday somewhere.  The last few years it had been in the UK, which has been great being able to explore new parts of the country. This weekend however we were more restricted as Isla has her jabs on Tuesday morning. We debated going away straight afterwards, but in the end decided we'd actually prefer to stay at home and do bits on the house, garden and allotment.
As I've mentioned previously,  Isla is at nursery on a Monday and Wednesday afternoon. We'd planned on getting loads done at the allotment on these days… but oh my giddy aunt! It was too hot to do anything! I had to sit down for a rest after just hanging the washing out one day!
Once the weather cooled down though,  we did manage to get lots done,  including making a couple more paths,  plant some geraniums, broccoli,  cabbages,  purple sprouting broccoli,  cucumbers,  and courgettes,  as well as loads of weeding. We also acquired a load of pallets which we plan on making some new compost heaps with.
This week's photo is of Isla having a good splash in her paddling pool that one of our friends bought her for her 1st birthday. She wasn't too sure when we first got it out,  but then got inpatient when we were taking too long to fill it up! She really enjoyed playing in there… until she had a massive poo and it leaked out her nappy.
Delightful!
Whenever she saw her paddling pool during the rest of the week she was desperate to get it in, even though it had no water in!
Did you all get to enjoy the sunshine we had last week?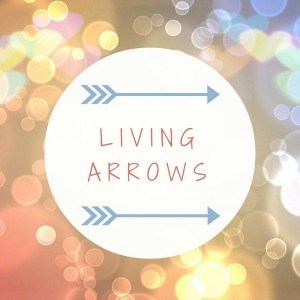 Living Arrows 26/52