Living Arrows 25/52
Nothing like leaving things to the last-minute! I blame my mother, I get it from her! Anyway without further ado, here is this week's Living Arrows post!
This week's photo is from when I took Isla down to the park in the next town and met Chris there once he finished work. It's a big park with a great playground. I think I've mentioned on here before that Isla loves swings, and she spent a long time on them this time. When we went to go on other bits of the playground my crazy little girl decided that the floor was much more interesting! It's amazing what children find fascinating isn't it? I'd love to know what goes through Isla's mind when she's staring at the most mundane of things.
Isla was lucky enough to spend the day with her Grandma and Grandpa on Friday. Chris and I had tickets to Gardener's World Live in Birmingham, so Mum and Dad offered to look after Isla for us so that we could go round on our own.  I think it made it much more enjoyable as we could relax more.  I think we'll definitely go again next year.
On Saturday morning I (!!!) drove us up to Barnsley to see some of my favourite people – two of the girls I lived with at uni.  It was so lovely to see them. Unfortunately we ended up heading home just before 11pm as I got with one of my headaches. We didn't get home until 3am as we had to stop so many times for me to be sick. I'm really annoyed I was ill, as we see each other so rarely. The last time we saw each other was August! And we didn't really have chance to catch up properly in the short time we were there. A new weekend will have to be sorted soon.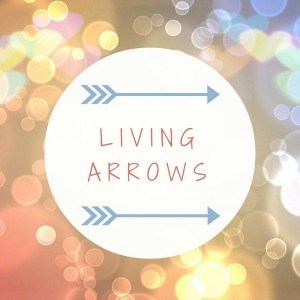 Living Arrows 25/52