Living Arrows 24/52
Hello! Welcome to all my new readers, there's quite a few of you,  obviously allotment posts go down well! And welcome back all my readers who have visited before!
For those of you who don't know what Living Arrows is about, here is how Donna describes it "it's is about celebrating childhood. The project originally took it's name from a poem by Kahlil Gibran, "You are the bows from which your children as living arrows are sent forth" and every Monday we share a moment from our week and invite others to do the same as part of this linky". So here is my post for this week's Living Arrows.
I mentioned in my last post that we have just taken on another 100m.sq of allotment, so the other half of the plot we have.  As the previous owner had not done anything with it for quite a long time, other than remove the raised beds and the good compost bin, it was a little over grown.
We spent nearly 7 hours at the allotment on Saturday, and got lots done. We made a wigwam so we could plant our beans,  we planted up some courgettes, did some weeding, planted some left over flower seeds to see whether they would do anything and brighten the place up a bit, started to make some paths with some of the 200+ bricks we'd just picked up on freecycle, as well as started to make a dent on the new side of the plot.
And got a little sunburnt in the process!
Isla was fantastic while we were down there. We'd taken the travel cot and filed it with toys and books for her, and put up the parasol to shade her from the sun. And she played away happily, until it was time for a nap, slept for a couple of hours, joined us for the our BBQ, and then carried on playing until we were ready to go home. There were times when Chris had to take her for a spin in the wheelbarrow to keep her entertained, but in the whole she was great. Long may that continue!
For our wedding anniversary this year, my lovely Mother-in-law bought us this fab allotment tool & tuck box, which is great for keeping all our gloves, and small tools in. We've yet to put any 'tuck' in there though.
Isla loves playing with it at the moment. She flicks the catches, and has managed to open them up on a few occasions, leading to a super proud grin on her face! She then closes them back up again. More proud grinning!
I think this is a sign that we have a budding allotmenter on our hands. Maybe in a year or so she will be old enough to have her own little patch up there to grow things…and hopefully not eat the stones/bugs/spiders/soil/anything else she finds there!
How old were your little ones when you first got them growing their own veg, or digging in the garden?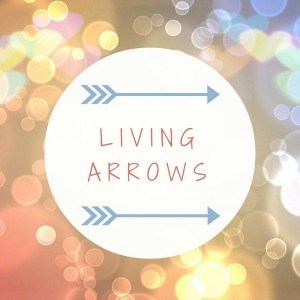 Living Arrows 24/52