Living Arrows 22/52
I hope you've all had a lovely bank holiday weekend, despite any torrential down pours you've had. After all,  it's not a bank holiday in Britain without at least a little bit of rain, is it? We had some spectacular rain where we were, and then it cleared and back to clear blue skies 5 minutes later.
We were meant to be spending the weekend at home,  with a few hours out at a first birthday party of one of the NCT babies. But as Isla has had conjunctivitis again I didn't want to be responsible for The Great Conjunctivitis epidemic of 2017 and give it to all the babies there!
So instead, we made last-minute plans to go and stay with Isla's Nanny by the seaside (even though we never made it to the beach!) After a mad thought on Thursday afternoon that we could go visit we then spent far too long on the M25 on Friday afternoon. But as ever,  it was worth it as we all love going to see Nanny.
We spent Bank Holiday Monday at home however. I think we had planned on doing bits on the allotment and garden, but the weather wasn't very nice, so we had a lazy day at home, and Chris did a little bit in the garden, but other than that it was just chilling. Just what we needed I think.
Isla spent lots of time reading with her Daddy, which was lovely to watch. The photo above shows Isla reading one of her favourite books. It's called Pop up Peek-a-boo Woof Woof. I know, it just rolls off the tongue doesn't it!? Anyway, she loves pop up books, or any books with flaps, and she has three pop up books from this range. I have to admit that they have been hidden from sight for a while, as she gets over excited with them, and lets just say…the T-Rex in Peek-a-boo Playtime met a sorry end, and that's the way several of the dogs in Woof Woof are going too!
When Chris got this book out for Isla she immediately recognised it, and she was squealing with each page, and every time a dog popped up! It was the most adorable thing ever. She knows exactly which bits of the book need lifting up, and which direction the pop up bits lift as well.
Isla loves 'reading', and she's just getting to the point where she is more than happy to sit and pull out ALL her books to read them on her own while we're doing other bits. And as much as I love reading with Isla, I can't wait for the time where I can actually read a book with her, as at the moment she is so excited to turn the pages that you can barely get half a sentence out before she turns the page. I have no idea as to what happens in half of her books, so I just have to make up stories depending on what I think is happening in the pictures!
What's your Little One's favourite book?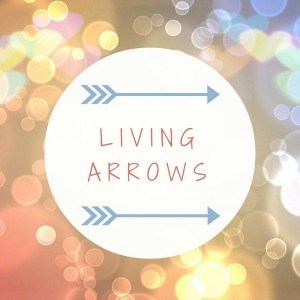 Living Arrows 22/52