Living Arrows 21/52
This week's Living Arrows post is up a little later than I planned,  but my head wasn't playing ball over the weekend,  and only improved yesterday evening.  So my usual Monday afternoon of blogging while Isla was at nursery was put on hold as I ended up sleeping on the sofa, hoping that it might help a little bit.
Not good for my blogging to-do list though, as I've got various posts to finish off I've been working on for a while, and I've also got my review of Tom Kerridge presents Pub in the Park, which I'm looking forward to writing up.
Despite my headache we had a wonderful weekend,  as my parents came to stay as they also wanted to go to Pub in the Park. We spent Saturday afternoon at the allotment,  despite the downpours! On Sunday the weather was glorious so we went for a walk to Hambleden, which is a gorgeous picturesque village not far from us… once we figured out which direction we were meant to be heading in! I then collapsed into bed when we got home – I'm sure the heat and not drinking enough probably didn't help my head at all.
Isla loves having her Grandma and Grandpa to stay, as she gets spoilt rotten. And I think, I think, Grandma and Grandpa love spending time with Isla too! It's lovely to watch them together. And I can't wait for Isla to spend a bit of time with her Nanny in a couple of weeks at her cousin's baptism.
I love this photo I took last week of Isla after her bath. It shows how long her hair is getting. When its dried and not sticking up like a duck's backside it really makes her look so grown up… well, as much as a one year old can do!

On the whole we seem to have mastered bath and bedtime now (have I just jinxed us!?) At the start of the year we were having a bit of a tough time, with a lot of screaming and only settling if she had her Mummy. Now though, she seems to go to sleep easier for her Daddy! I think we have now mastered her bedtime routine. Whoever doesn't do bath time does bedtime, which involves drying her after her bath, getting her into her PJs, and giving her her bottle while cuddling in her room, listening to a bit of Ludovico Einaudi! And with any luck, she's asleep within 5-10 minutes after she's decided she's had enough of her bottle!
So what's your Little One's bedtime like? Do you have any tips or tricks to get them to sleep? What really doesn't work for you?
Oh, and I know I've said it before, but… them eyes!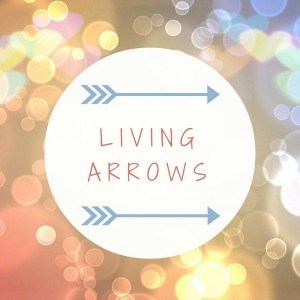 Living Arrows 21/52