Living Arrows 19/52
It feels like it's been a really short week this week as Monday was a bank holiday. I could get used to short weeks,  not that I have a job to go to these days,  but is nice to have Chris at home more. Last weeks Living Arrows post was published later than I'd hoped due to this,  but definitely worth it. 
I've mentioned before on one of my Living Arrows posts that we love a pub with a good beer garden with friends. You can't beat a Friday evening, with the sun shining, beer in hand, while chatting to friends and watching the children playing.
That's what we did this Friday.
Ana and I discussed children's parties, future children, and house prices… oh how our lives have changed in the last 2 years!
When we went to the bar to get our drinks Isla came with us and wanted to sit on the bar stool. I couldn't resist taking this photo of her propping up the bar. Start them young! (N.B. Isla didn't actually have any alcohol of any type!)
We then decided that we really really wanted some sushi for dinner, so off we went in to town, and Isla tried her first bit of sushi. I don't think she was too convinced, but that could be more to do with the fact that she knew I had some snacks in her food bag! And so, Isla had a super healthy dinner of snacks, as she refused to eat anything else! It's a good job she eats healthily the rest of the time.
Chris has now decided that he really loves
Yo! Sushi
, and was looking up whether you can get it delivered in our area or not….you can't unfortunately. Though that might actually be good for our bank balance! He has also decided that when we do order sushi, he should just have whatever I order, as everything I ordered turned out to be amazing. I'm resisting popping out to Waitrose to get sushi for dinner tonight, especially as I've already sorted out dinner…..it can always keep til tomorrow night though, can't it??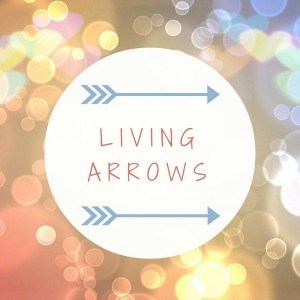 Living Arrows 19/52