Living Arrows 17/52
Do you ever have one of those weeks where you feel as though your feet haven't touched the ground? Or you look back on it and it just seems like a blur, you can't quite remember what you did yesterday, nevermind the start of the week? I definitely feel like that a lot recently. I'm loving taking part in
What The Redhead Said's
Living Arrows linky, as it makes me stop, think, and appreciate a bit more as to what we have been up to.
I keep saying to myself "once we have X out of the way, we can relax", but by the time that X is out of the way, our calendar has filled up with more things to do. It's never-ending! Don't get me wrong, I love seeing all our family and friends, but when you look at your calendar and the next free weekend you have is the end of June it already makes me feel exhausted just thinking about all those busy weekends!
Having said that, we didn't have anything planned this past weekend, and it was really nice to be able to write a nice long list (I love me some lists!) of the things we would like to get done, as well as the things that need to get done, and one by one cross most of them off. That was what we did on Saturday at least.
Sunday was spent going from the pharmacy, to the out of hours clinic, and back to the pharmacy again, followed by lots of sleepy snuggles with Isla on the sofa. My little Isla Bear had some sort of allergic reaction to something on Saturday, and came out in hives all over her body. Thankfully she didn't seem at all bothered by them, but it really didn't look pleasant. She was prescribed some anti-histamines, which thankfully seem to be doing the trick, and it has mostly cleared up now. But we still don't know what caused the reaction.
As I said, Isla wasn't bothered at all by her rash, and was still her usual happy self, eating, screaming at the top of her lungs when she finds something funny, making us walk laps of the downstairs of the house, and playing. Isla has recently started choosing herself as to which toys she wants to play with. Before she would just play with whatever toys were in front of her, or whichever ones we gave her. But the last few weeks she has seen a toy she wants over the other side of the room and crawled over to get it, or looked through her toy box and picked something out.
A few weekends ago we went to an NCT nearly new sale, and bought various bits and pieces. I love going to them, as you get some amazing bargains. We picked up a few toys for Isla's birthday next week (how is she going to be one already!?!), as well as a carrier, and a lovely toy chest. The paint work on the toy chest was quite scuffed, so we have sanded it down, and painted it in some bright colours. It's great, as all of her toys (apart from the really big ones) fit in there, so it makes it so much easier to tidy! Isla loves coming downstairs in the morning and us opening the lid for her. Her face lights up, and she squeals in delight, crawling over to it to choose some toys to play with.
I often giggle to myself, as I have visions of her leaning in too far and falling head first in to the toy chest one of these days!
In this weeks Living Arrows photo, Isla has taken her favourite book out of the toy chest.
Dear Zoo
. She loves it! She adores lifting up the flaps and closing them again, and turning all the pages. And she loves our reactions to each of the animals that are behind the flaps…particularly the naughty monkey! Isla will quite happily sit and "read" it to herself, which is so sweet to watch.
I love that Isla loves books. She has got quite a few, and loves turning all the pages. She will quite happily makes us read the same book to her over and over, and over again! She's getting a few more books for her birthday too. They're just a few second-hand ones I picked up for her. I'm not quite sure she'll understand her birthday, or the presents she gets. But I'm sure she will love the wrapping paper, how crinkly it is, and try to eat it all! She's already discovered the roll of wrapping paper we've bought to wrap her presents, and tries to eat that!
What is your child's favourite book? And what was your favourite book as a child?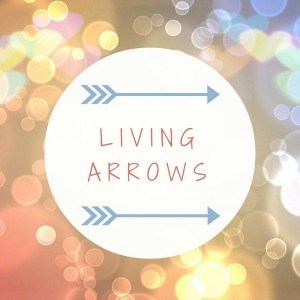 Living Arrows 17/52