Living Arrows 14/52
Another week, another Living Arrows link up. As I've said, I've really enjoyed linking up with Living Arrows over at
What The Redhead Said
. Click on the badge at the bottom of this post to have a look at some of the other blogs that have been linking up. There are so many each week! This last week is hopefully the last crazy busy week we'll have for a little while at least. Or at least I'm hoping. It's been wonderful doing so much, and seeing so many people. But I think I really need some time to recover, and just chill out at home.
Those of you who know us in the Life As Mrs D household, or have been reading this blog for a while, will know that we love our gardening. We only have a small garden out the back, and a bit of a 'courtyard' out the front, so we try to do as much with those as we can, but we also have half an allotment plot (approx 100m sq.) in our village. In fact, the lady who has the other half of the plot has just given hers up, so we've asked as to whether we can take it on too. Are we mad!?! I think so! We already have so many plans for it if we do get given it. Thankfully, as we are such a small village, and there are actually quite a lot of allotments plots in the village, there isn't much of a waiting list at all. I honestly think they only look at the waiting list once or twice a year, and assign plots then, unless you chase them up about it! So fingers crossed we get this one.
We spent a lovely few hours down there on Sunday, just doing bits of weeding and watering. The weeding is a never-ending task on our plot. Hopefully if the weather is nice this weekend we will head down there again, and maybe even take a few drinks so that we can sit there and actually enjoy and take in everything there, rather than just working constantly. I plan to write a post about how far we've come with our plot since getting it in October 2014. I was looking at pictures with my Mum last week, and the change in it is phenomenal. Largely with help to Mum and Dad!
Anyway, all this gardening and allotment talk leads me on to this weeks Living Arrows photo. Thanks to my lovely Mother-in-law we have a subscription to Gardeners World magazine, which we love getting. Sometimes it can take us a while to read it all, but I'm working on that. We do find it so helpful to be able to flick through and find pieces of advice on how to re-seed our lawn, or what the problem with our garlic is. We also religiously watch Gardener's World on TV! (I promise, I turned 30 this year, not 60!!) You can often hear us while gardening, or up at the allotment, saying "Well Monty said we should do this" or "What did Monty say about that?"
It turns out that Isla also loves our Gardener's World magazines. She loves to throw them all on the floor! You can see in the picture above that they are all scattered around her. I'd picked these up twice already and moved her away from them, but she just crawled back and threw them all on the floor again! She's such a cheeky monkey! I have to watch her carefully these days with them, as she also likes to rip them up and eat the pages. I've tried explaining to her that she needs to wait for the fruit and veg to grow before she can eat them, she can't just eat it straight from the page. But she doesn't seem to listen!
Join us again next week for the next installment of Living Arrows.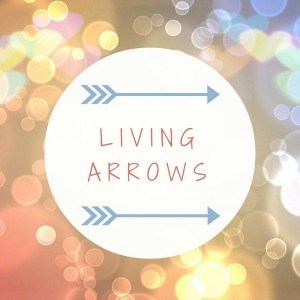 Living Arrows 14/52