Living Arrows 13/52
"You are the bows from which your children as living arrows are sent forth" – Khalil Gibran
Another week has gone past in a flash over at Chez Mr and Mrs D. As per we've had a busy week, and I'm hoping to have a bit of a chilled out week next week…we'll see whether that happens. So, before I suddenly remember a million and one other tings I should be doing, here is week 13 of Living Arrows
As I said, we've had another busy week. A very old (as in I've known them a long time, not age, he's already panicing that he's going to be 30 soon!) friend stopped by last week. Isla and I spent the whole day catching up with him, or in Isla's case, meeting him. We realised that it's been nearly 4 years since we last saw each other, and mine and Chris' wedding. A lot has changed since then. We vowed not to let it be so long again before we meet up next time!
We also went to visit one of my NCT friends in her lovely new house. A few of us went over there for a baby play date, and to try out some Afghan food as there is a fabulous take away near their new house. The food was amazing, and I could have happily carried on eating! It's a bit of a mix between Mediterraen and India. Is 25 minutes too far to drive to get take away???
On Friday we had a bit of a chilled out day, as Isla had a temperature during the night, and so decided that it was a great idea to go absolutely crazy and hyper and play for 2 hours at 4am! Daddy and I were not amused! She then also decided to do this again on Friday night, but at 1am instead…I hadn't yet been to sleep, so by the time 3am came around I was starting to feel like I was drunk because I was so in need of sleep!
We were still up at a fairly normal (for us) time, and pottered about the house bits before heading out to an NCT Nearly New Sale in Beaconsfield where we grabbed some fantastic bargains! I might do a haul post on that at some point… We then pottered about a bit more for the rest of the afternoon, tidying the house, and doing bits of gardening.
Sunday was my first Mother's Day, which is where this weeks photo is from. Daddy Isla made me breakfast in bed, despite the fact that I got her out of her cot and she was in bed with me when breakfast was brought upstairs. Maybe she was giving Daddy telepathic messages on what to do? All three of us ate French toast in bed, before quickly getting ready to go to church for the Mothering Sunday service. We were the only family there, which was a shame, and I think we were the youngest there by about 30 years (no exaggeration!!). Which I think is a real shame, but it's the way a lot of churches are going these days. Isla is getting christened at our local church at the end of next month, so we thought we should show our faces before then! I got given a posy of flowers, which was lovely, and we stayed around afterwards and chatted to lots of people while having tea and coffee. After church we headed over to Costco as we needed to stock up on a few things, and then came home and pottered about the house and garden more.
I could do with a week to recover, but we've got another busy week ahead. I think I need a holiday!!
As I said, this weeks photo is from breakfast in bed on my first Mother's Day. I got some lovely presents from Isla, which she kindly asked Daddy to wrap for her. I love this photo though, it's a family one, so yay for one for photo towards one of my
Wishes for 2017
! Plus, Isla is looking up at me, and I like to think she's thinking, 'Great, Mummy is taking photos of me again! Does she ever stop?' Please excuse how rough I look, but I hadn't planned on taking the photo, so hair is not brush, PJs are still on, we all look tired as it's early, for us!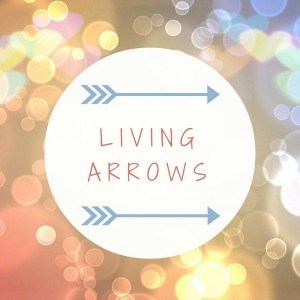 Living Arrows 13/52