Living Arrows 12/52
The last couple of weeks have been crazy busy for us, and I feel like I haven't really had any time for blogging at all. So sorry for the radio silence, and delayed posts. But I've been spending it with family and friends, and we've been having a wonderful time. So, slightly late, but better than last week, here is week 12 of linking up with Living Arrows.
This really isn't a good photo of any of us, and I'm pretty sure my mum might kill me for putting it on here, but I love that it's a photo of three generations of women in our lovely family. Over the last year or so, with the death of my Grandma, and the birth of Isla, family has become even more important to me.
It is rare that we manage to get a photo of the three of us. Usually because Isla doesn't sit still long enough, and also because we would have to extract her from her Grandpa's arms! He is pretty darn smitten with her, and doesn't like to go more that a few weeks without seeing her!
I'd love to get a better photo of the three of us taken sometime soon. I'd said in my Goals for 2017 that I wanted to take more photos of us as a family, I don't think we've managed that yet. But maybe I should add to that that I want to take more photos of Isla with the rest of her family too. Grandparents, Aunts and Uncle, and cousins too.
This photo was taken when we went out for an absolutely gorgeous meal to The Coach in Marlow. It's one of Tom Kerridge's pubs, and the food is simply divine! We're big fans of Tom Kerridge in our house (as are my parents) Chris took me to The Hand & Flowers for my 30th birthday last month. It really was the most amazing meal. And at the end of May we are heading off to Tom Kerridge presents Pub in the Park, which I'll be reviewing on here. So keep an eye out for more info on that soon!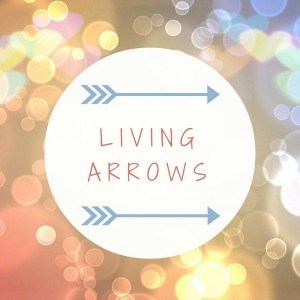 Living Arrows 12/52